A one day seminar on 'Emerging Technologies in Civil Engineering and Its Applications' was held on 30th March, 2019 at ground floor seminar hall in our college main building. The event was organized by Department of Civil Engineering, OmDayal group of Institutions and supported by the Institution of Engineers India under the student's chapter program. All students from 1st year to 4th year of CE Department participated in that event. Distinguished guests like – Dr. Soumya Bhattacharjee (Associate Professor-IIEST), Mr. Joydeep Das (Executive Engineer– State Project Management Unit, WBADMIP, WRIDD, Govt. Of West Bengal), Mr. Kaushik Bhattacharya (At Present, working for WBADMI Project funded by World Bank under W.R.I.D.D. As Consultant – Technical support) and Dr. Tushar Kanti Dey (Associate Professor and Head of the Department in the department of Civil Engineering, Pailan College of Management & Technology) had enriched the event by delivering lectures on their specialized topics. Prof. Kamrul Alam had coordinated the event and Prof. Gautam Bondyopadhyay (TIC, CE Dept.) had presided over the event. Certificates and prizes had been distributed at the end of the event with a note of thanks given by Prof. Srijan Mukherjee.
A coding competition and poster presentation for CSE Student Chapter of Institute of Engineers organized by department of Computer Science & Engineering on 9th March 2019. 2nd and 3rd year CSE students participated in the program. Coding competition is held on computer labs. Students write codes using different language like C, Java, Python for some interesting problems. Poster presentation held in ground floor seminar hall. Students have created posters on different topics of recent trends on computing like cloud computing, block chain, machine learning etc. They have also presented their posters in front of faculties and other students. Prizes and certificates are given to the participants after the end of poster presentation.
A three days long Entrepreneurship Awareness Camp was organized by OmDayal Group of Institutions in collaboration with Department of Science and Technology and Bio-Technology from 18th-20th March 2019.The objective of this camp is to inform the students about various facets of entrepreneurship – its pros & cons, motivation through creativity, technical, commercial and financial aspects of setting up a Small Scale Industries unit with scientific approach, support and financial assistance. The program was inaugurated by our chief guest Mr.Siddhartha Chatterjee, Country head of Trustlines Securities along with Mr.Amiya Kumar Kalidaha ,Senior scientific officer of DSTBT-GoWB, Dr.Prosenjit Sen, Vice Principal and Chairman of organizing committee, Mr. Pranab Biswas, Coordinator .The first session was started by Mr.Siddhatha Chatterjee. He shared his experience with participants, introduced the concept of financial engineering and told about famous entrepreneurs. Mr.Amiya Kumar Kalidaha ,Senior scientific officer of DSTBT-GoWB, started the next session by highlighting the emerging technologies and business opportunity guidelines. Next half was started with the speech of Mr.H.K.Chowdhury, Assistant Director of Ministry of Micro, Small & Medium Enterprises (MSME-TR), Kolkata. He focused on the technical, commercial and financial aspects of being a successful entrepreneur and how one can get assistance from government agencies. He aware participants about utility of Udyog Aadhaar Memorandum , registration process for small business sectors.
Morning session of Day 2 was started by Mr.Mijanur Rahaman Mollah, Branch Manager,BOI Uluberia. He briefed about some Schemes for providing financial assistance to set up new enterprises like Swami Vivekananda Swanirbhar Karmasanasthan Prakalpa (SVSKP), by Department of Mass Education Extension & Library Services Government of West Bengal, Prime Minister's Employment Generation Programme(PMEGP) administered by the Ministry of Micro, Small and Medium Enterprises, Government of India. Mr.Rajib Sarkar and Mr.Manasij Dutta took a session about Consultant in Civil engineering and Construction Industry. The second half of the camp was scheduled with industrial visit for participants in CERATIZIT Group, SKIPPER LIMITED and KEITH CERAMIC Private Ltd.
Last day of the program started with a motivating interactive session by Mr. Ranodeep Saha, founder of Rare Planet who shared his experiences and thoughts with participants and addressed their queries related to entrepreneurship. After that the participants presented their business ideas in front of panel of judges in groups and the best group was awarded. All the participants got their certificates and submitted their feedback. The program ended with valedictory session by Coordinator of the program Mr.Pranab Biswas.
Annual Sports 2018-19 was organized by OmDayal Group of Institutions on 25th February, 1st and 2nd March, 2019. It was comprised of both outdoor games – football and cricket tournament and indoor games – badminton, table tennis and carrom tournament. Mechanical Engineering department came out to be the winner of the football tournament and Architecture department – the runner up. Arnab Mukherjee of M.E. department was adjudged the man of the tournament for football. So far cricket was concerned, Architecture department snatched the victory over the guest team in the final match. Amit Das of the guest team was awarded with the man of the tournament for cricket. The outdoor games were touchy, catchy and what not!Like outdoor games, indoor games too won the heart! The winners of the indoor games are listed below-
Badminton:
Men's Doubles:
Winners: Debojyoty Roy Choudhary (CSE, 2nd Year), Arijit Adhikary (CSE, 2nd Year)
Runners Up: Debashish Sarkar (B.Arch, 3rd Year), Somnath Gorai  (B.Arch, 3rd Year)
Women's Doubles:
Winners: Shital Shaw (B.Arch, 3rd Year), Sahini Kar (B.Arch, 4th Year)
Runners Up: Pinkey Kumari Jaiswal (B.Arch, 4th Year), Tasneem Ali (CE 4th Year)
Table Tennis:
Men:
Winner : Sk Abul Qashim Azad (CE, 4th year)
Runner Up : Akash Nayek (CSE, 4th year)
Women:
Winner : Shital Shaw (B.Arch, 4th year)
Runner Up : Sohini Kar (B Arch, 4th year)
Carrom:
Men:
Winners : Manirujjaman and Sk. Afridi (CE, 4th year)
Runner Up : Bhaskar Basak and Vishal Inarkar (CSE, 4th year)
Women:
Winners : Pinkey Kumari Jaiswal (B Arch, 3rd Year)  and Tasmin Ali (CE, 4th year)
Runner Up: Diya Dey (CSE, 2nd year) and Jyoti Priya (B Arch, 2nd year)
Chess:
Winners:  Pankaj Kumar Jha (B.Arch, 3rd year)
Runner Up: Debashis Sarkar (B.Arch, 3rd year)
Snapshots
---
PARICHAY 2018-19
The Fresher's Welcome programme was organized by Omdayal Group of Institutions, Engineering and Architecture College on 22nd February 2019 at the Rabindra Bhavan Hall at Uluberia. PARICHAY 2018-19 started with welcoming the First year students with flowers. Continuing with the proud tradition of the college, senior students and newcomers of the college mingled with each other at the Fresher's Welcome. It was a fun filled event at which the freshers got an opportunity not only to showcase their talents but also to interact with the seniors.
The program kick-started with Mr. and Ms. Fresher Contest. Roopdeepa Ghosh of CSE and Pathikrit Sengupta of B.Arch were declared Ms. Fresher & Mr. Fresher 2018. The Runners Up were Debasmita Bhowmik and Aritrim Paul of B.Arch. Prizes were also given to Mr. and Ms. Charming and Mr. Best Dressed and Ms. Best Dressed were also given. After lunch the cultural programme started with a classical dance and songs. There was mimicry performed by Anubhav of ECE department which kept the humorous. There was also a skit and Band performance. The jugalbandi of the Band where there was rendition of soulful songs and instrumental kept the audience enthralled. Students were given mementos. Finally the program ended, leaving behind sweet memories that will be cherished lifelong by the first years.
Snapshots
---
Department of Civil Engineering recently conducted a four days Survey Camp at Ghatshila, Jharkhand for 2nd year student of Civil Engineering department successfully from 2nd January to 5th January, 2019 as per the regulations of the University academic curriculum.
This Camp was aimed to groom Civil Engineering students with essential practical knowledge and to expose them to the real work, and also to encourage leadership and teamwork skills. This Survey Camp resulted in encouraging and supporting students, emerging as an individual in several areas of academic provision.
Acknowledgement
This Camp was organized by the Department of Civil Engineering of OmDayal Group of Institutions, Uluberia, with the permission of Principal, Vice Principal and HOD (CE Dept) of the college. The faculty members who participated in the camp are Prof. Srijan Mukherjee, Mr. Palash Das, Mr. Pritam Roy and Mr. Koushik Mondal as admin member.
All the names of the students who participated in the camp is as follows-
Subhabrata Pal (CIVIL)
Sanjukta Koley (CIVIL)
Samarpan Bag (CIVIL)
Riddhi Mondal (CIVIL)
Dulal Marandi (CIVIL)
Chetana Sen (CIVIL)
Without their sincere effort this event would not be a successful one.
Objectives and Scope of Camp Works
The objectives of the camp works are:-
To train the students in taking field observations pertaining to some of the real world problems such as triangulation, contouring, etc
To train the students in all the related calculations and in the preparation of the required maps.
To determine the co-ordinates of few triangulation stations.
To prepare the contour map of an area by block contouring method.
To prepare the contour map of a hilly terrain.
Tour Schedule
| Sl No | Date | Details of work |
| --- | --- | --- |
| 1 | 02-01-2019 | Reconnaissance survey and station marking |
| 2 | 03-01-2019 | Contouring field work |
| 3 | 04-01-2019 | Profile levelling and Theodolite traversing |
| 4 | 05-01-2019 | Return from the tour |
Snapshots
---
Some Glimpse of the Field Work
---
The workshop on- 'Cyber Security- Theory and Hands-on' was organized by OmDayal Group of Institutions in assistance with Centre of Distributed Computing, Jadavpur University on 3rd November, 2018. Workshop was held having a panel of eminent research engineers Dr. Anirban Sengupta, Preetam Mukherjee, Debashis Mandal, Promit Banik from Centre of Distributed Computing, Jadavpur University. The workshop focused on the current trends in cyber security to promote the understanding of cyber security threats. Total 125 number students of different branches were participated in this workshop.
As the technology is increasing day by day, many people fall victim to cyber theft. Due to rapid development of technology and the availability of internet to most of the public, broadens the pathway of cyber-crime. As people share their personal information online; most of their accounts get hacked by cyber-criminal or in other words black hat hackers. Cyber-attacks can be caused due to negligence and vulnerabilities. To aware students from Cyber-attacks and protection mechanism of information are the primary objectives of this workshop.
Objectives of the workshop are as follows:
Awareness on the latest terminologies related to cyber security
Assisting in developing a strategic view on addressing cyber security risks
Building a practical perspective to comprehend the possible impacts of such risks
Building a practical perspective to comprehend the possible impacts of such risks
Snapshots
---
'Imagine, Innovate, Invent and Inspire
– Keeping this motto in mind to showcase their talents, the engineering students of OmDayal Group of Institutions organised the 3rd Tech Fest
VOYAGE 2018
on 30 and 31 August 2018 in the college campus. Invites were sent to different colleges, schools and industries. The invited Chief Guests Mr Prodipto Das, Ms. Debarati Ghosh and Ms. Rupsa Biswas of Tech Mahindra, made it a point to visit all the projects of the departments. Lauding the hard work put up by the students they encouraged the students to
'think out of the box'
.
The Vice Chancellor of MAKAUT, Prof. Saikat Maitra wished a grand success for the Tech Fest through his message.
Most of the students enthusiastically participated, coming up with their best innovative and futuristic projects. Under the guidance of their teachers, students from B.Tech, made a stunning display of their innovative projects and models based on concepts from all the domains of engineering. The co-ordinator of the Event, Prof Dipankar Hazra toiled hard coordinating with the teachers and students to make the event a success.
Visiting the exhibition, on the second day, Mr. Vivek .A .Jha, Senior Manager of Sintex Ltd said, "Science and Technology are subjects that are part and parcel of our daily life. Organisation of such events will not only help in stimulating creativity and innovativeness among students but will also generate their interest for these subjects". He appreciated the innovative and creative skills of the students and applauded their efforts.
These exhibits were modelled to provide solutions to many present and future socio-economic problems, particularly those confronted in the present scenario of urbanization and sustainability. Some outstanding exhibits like Vertical car parking, Lifting Airbus, Solar Wind Bridge, Rotating Restaurant, Obstacles Avoiding Robot, WiFi controlled Robotic car, Wi-Fi based home automation, Online Review Based Hotel Selection, Vapour Compression Refrigerator, Fork Lift, Power generation from Railway tracks, Smart Mirror using Raspberry Pi 3,RFID based Attendance system, Light Fidelity attracted most of the crowd.
The Vice Principal Prof. (Dr .) Prosenjit Sen said that "Science and Technology needs to be studied beyond curriculum and requires inquisitive thinking minds. He further said that the students had made the projects keeping in mind the future demands of mankind and at the same time conserving natural resources and reducing global warming". Solar wind Bridge, Vapour Compression Refrigeration and Solar Energy Power Bank would help reduce global warming.
At the end of the Two Day Fest, the winning teams were declared. Trophies and Certificates were distributed. These winning teams would further participate at national level competitions. The exchange of ideas and thoughts empowered the future torch bearers and exposed the students to more innovations and a rich learning experience. The experience was enriching for one and all.
Snapshots
---
CE
---
---
ME
---
---
ECE
---
---
CSE
---
A training cum workshop on Cardiopulmonary Resuscitation (CPR) and First Aid organized by Save Life Foundation held on 28.07.18 at OmDayal Group of Institutions. The programme was organized in association with Internal Quality Assurance Cell (IQAC) of OmDayal Group of Institutions. Save Life Foundation is an NGO which ensures rescue, evacuation and pre – hospital care for the accident victims on National Highways. Prof. Pranab Biswas was the coordinator of the programme. The team members comprised of Prof. Debojyoti Lahari, Prof. Anoar Ali Mollah And Mr. Palash Das. The training workshop was conducted by Dr. Anjan Pan (Member of West Bengal Orthopaedic Association and Chairman Trauma Care Committee, W.B.) and Dr. Anjan Datta (Ex National President of Indian Society of Anesthesiologists). Student participation was overwhelming. Not only they attended the workshop but also involved in the different activites of life saving. More than 100 students from various departments attended the workshop. After the programme the participants were certified by the NGO. In near future college has a plan to organize such workshop in larger platform.
Snapshots
---
1. NPTEL
OmDayal Group of Institutions is proud to be one of the many Local Chapters (in the Eastern zone) of SWAYAM- NPTEL, a MOOC platform, collaboratively offered by the MHRD, IITs and IISC. The ODGI Local Chapter was initiated in 2016, and hundreds of students of branches Civil, Computer Science, Mechanical, Electronics and Communication engineering and Architecture have successfully completed various certification courses till date, along with a number of faculty members. These courses add value to the students' UG degrees, which help them in their curriculum based studies as well as in professional pursuits. The different departments are now gearing up for the 2018 July-December run of these courses.
2. Institution of Engineers (India) IEI Student Chapter:
The College established a Student Chapter with the Institution of Engineers (India) for the departments of Civil Engineering, Mechanical Engineering and Computer Science Engineering from May, 2018. The liaison provides an opportunity to the students to pursue different curricula and activities directed by IEI.
3. Confederation of Indian Industry CII:
The Confederation of Indian Industry (CII) collaborated with OGI in an endeavour to build an interface between academia and industry through a one year student engagement programme. The programme highlights are factory visit, industry experts' visit to the institutions, career counselling and similar career related opportunities.
4. Cocubes& AMCAT:
The institution also shares a tie-up with organizations like CoCubes and AMCAT as part of its various student development programmes. The students are assessed thoroughly for enhancement of their future employability and also for placement assistance.
5. Internshala:
The institution registered with INTERNSHALA ~ official internship partner of AICTE. It provides a platform to the students to apply for Internship (Training Program) in various field of Engineering as well as a direct access to online resume maker.
OmDayal Group of Instituiton
is proud to be participating in the pre-counselling seminar of Education @ Bengal at Netaji Indoor Stadium, organized by the Association of Professional Academic Institutions.
Register with us and book your slot for ONE 2 ONE Priority Pre-counselling session.
Use code : APAIWB
Date : 5th – 7th June, 2018
Time : 11:00 am – 7:00 pm
OmDayal Group Institutions held its Annual TECHFEST 'VOYAGE 2016' on 29th and 30th January 2016. Students from all Departments participated in the event and contributed to express their attainment in their subject of interest.
A brief description of their projects is given below:
1. Civil Engineering Department:
They displayed 9 projects. Out of that, Atmosphere Building, Innovative Cable Stayed Bridge, Gravity Dam & Green Tech Tree House attracted visitors.
2. Mechanical Engineering Department:
Visitors liked many of the projects displayed by the students of the Department – Segway, which is used at shopping malls for conveying goods, Water Level Indicator, Vacuum Cleaner, Hydraulic Drilling Machine and Robotic Arm.
3. Electronics & Communication Engineering Department:
Electronics & Communication Engineering Department was not far behind. They displayed 13 projects out of which people appreciated 'smoke detector', 'rain alarm', 'electronic letter box', 'automatic door bell' and 'Wi-Fi data communication'.
4. Computer Science & Engineering Department:
Computer Science & Engineering Department is always the leader. They displayed less number but quality projects. 'Android Based Hospital Management System', 'Robocar', 'LED Matrix Display' which can have application in e-notice board or clock, 'Remote Controlled Car' and various kind of software games which they exhibited.
Snapshots
---
Video
---
To help students of OmDayal Group of Institutions, College of Engineering and Architecture fulfill their entrepreneurial aspirations, the institute, under the sponsorship of Department of Science & Technology, Govt. of West Bengal, organized a 3-day Entrepreneurship Awareness Camp at the college campus from 20th to 22nd March 2014.
Several eminent academicians and professionals graced the event. Dr. Manas Kumar Sanyal (HOD-HRM, IIEST, Formerly BESU), Mr. Yashwant Ruia (Secretary, Uluberia Industrial Growth Centre), Mr. Amiya Kumar Kalidaha, Senior. Scientific Officer, Department of Science & Technology, Govt. of West Bengal encouraged the engineering and architecture students to take up entrepreneurship rather than standing in an unending queue for a job. The other guest speakers included Mr. N K Sengupta, Former Deputy GM, India Cement Group and Mr. Barun Sarkar, Business Manager, NIRJAFT, Mr. S. K. Chakraborty (Representative of DIC) and Mr. Saurav Chandra Das, Assistant Manager, UCO Bank.
There was also an entrepreneur- student interaction. Mr. Goplaji Lal Karn of Sintex Industries and Mr. Sunil Jagwani of Jagwani Projects spoke to the students on the various important aspects of setting up a production house. The students also got the opportunity to visit a few industries for a real-life experience.
The climax of the 3-day Entrepreneurship Awareness Camp was the excellent presentations made by the students.
Snapshots
---
Video
---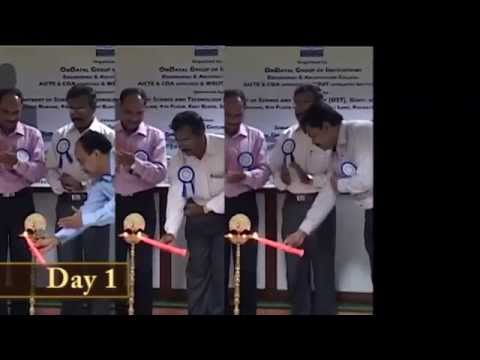 A Zonal Level Workshop-cum-Competition was held in the campus of OmDayal Group of Institutions, Uluberia, Howrah on 7th & 8th February 2014 in collaboration with ARK Technosolutions, Helios, Department of Energy Science and Engineering, IIT BOMBAY.Several student teams participated in the event. The sessions were interactive, exciting and competitive. The team consisting of Ms. Anupama Gupta, Ms. Megha Didwania, Mr. Darshan Mishra, Mr. Hussain Ahmed Shah Gilani and Sk. Mujahir was declared the winners. They were handed over medals and certificates.
They also represented OmDayal Group of Institutions at the National Level Finals of Robotics 2014, held at IIT, Bombay on 8th & 9th March 2014. The team did extremely well there and reached the last round of the Finals. Our hearty congratulations to all the team members!!
Snapshots
---
Video
---